Employee badges are a must-have item for organizations of all kinds. Having an employee ID badge offers a number of benefits to all organizations, from corporate office buildings to elementary schools.
First and foremost, ID badges help increase security by clearly identifying personnel who are authorized to be on-site. Employee badges also help give an organization a more professional appearance, lending an air of credibility to any operation.
For many organizations, the question isn't one of whether or not employee ID cards are necessary; instead, the question is "how are we going to make employee ID cards?"
With PremiSys™ ID!
PremiSys ID is our suite of photo ID and identity management software. It's designed to make it simple to design a professional employee badge, from a simple corporate badge with a name and title to a more intricate healthcare badge with an employee photo and facility logo.
What makes PremiSys perfect for employee badges?
Obviously, the goal of any photo ID software is to make it easy to design and print ID cards. However, with PremiSys ID, we took steps to make the process as seamless and easy-to-use as possible.
When you combine that ease-of-use with the three features below, it makes it clear that PremiSys ID is the perfect software for creating ID badges for your employees.
1.

Our card design wizard allows for easy creation of custom employee badges
Choosing the design of your employee ID badge is arguably the most important part of the whole process. After all, the design is what most people will notice when they first see the badge. Will yours look professional and put together?
With PremiSys ID, it certainly will. The software includes a card design wizard that makes it simple for you to go from a blank white card to a professional-looking template in just a few clicks of the mouse.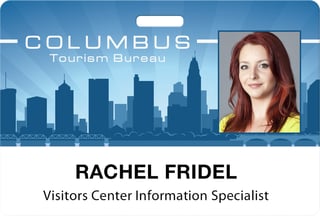 The PremiSys design wizard allows you to drag and drop specific portions of an ID card onto the blank canvas and to position them as you see fit.
Want to put the user photo on the far right side of the card? Go for it!
Want your company logo to take up half the space on the card? The choice is yours, and yours alone.
Interested in leaving some space for a magnetic stripe? Space away, you design pro!
The card design wizard also ensures that you don't miss a step, walking you through each part of the process required to create a finished employee badge.
With just a few clicks of the mouse and taps on the keyboard, you'll go from a blank white card to a design that will be the envy of your office park.
Once you've nailed down that perfect employee badge design, you're able to save it as a template for future use in PremiSys ID, saving you time.
Speaking of templates...
2. Store your card templates to quickly badge different kinds of personnel
...you can store more than one of them! When we designed PremiSys, we designed it with decades of ID experience in mind. That experience told us that few organizations will be OK with issuing a single badge to everyone.
After all, most offices, retail stores and other areas of employment have a variety of different staff working in many different capacities.
With that in mind, we built into PremiSys the ability to store multiple design templates that you can apply to a cardholder record with just a few clicks.
If you have six different types of staff at your site, create and store six different templates. This allows you to quickly assign the correct template to a new employee, or to an employee who has accepted a promotion or moved to a new position.
For example, the employee below was hired as a faculty member after completing her student work. Watch the animation to see how easy it is to get her new faculty badge ready to be printed: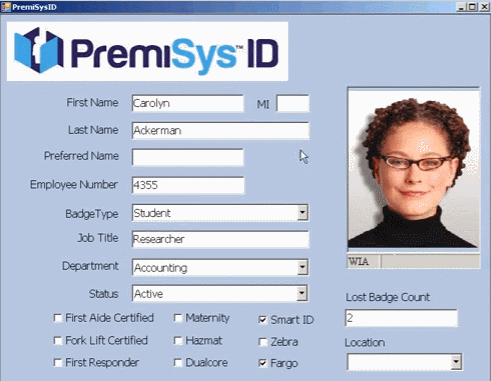 Simple! With just a few clicks of the mouse, you're able to find the correct employee badge.
By storing more than one design template in the system, PremiSys cuts down on the hassle and confusion that can come with issuing different badges to different personnel.
3. Create employee badges on the go with the PremiSys mobile app
"OK," you're thinking. "So it's easy to design my cards, and I can store templates. That's pretty convenient."
Yup! And it's about to get even more convenient as we introduce you to the PremiSys mobile app.
The PremiSys mobile app is an application for Apple® and Android® smartphones that essentially puts the power of your employee badge program in the palm of your hand.
With the PremiSys mobile app, you can create a new ID badge from your smartphone in just three quick steps:
Open up the PremiSys mobile app and take a photo of the new cardholder with your cell phone or tablet.
Enter the cardholder's variable data, including options like employee name, title and department.
Print the card to a networked ID card printer.
It's that simple. You just created an ID badge from your smartphone. Welcome to the future!
The PremiSys mobile app will be particularly relevant to organizations that print a number of new employee badges at a time.
Instead of having lines stack up at a single card registration desk, you can use several current employees (armed with cell phones or tablets loaded with the PremiSys mobile app) to conduct badging operations on the go, avoiding long lines or dangerous congestion.
The PremiSys mobile app can also be used to look up stored license plate data for parking lot control and can be used as a mobile identity management service to verify cardholder information on the go.
Learn more about the PremiSys mobile app and how it allows you to create employee ID badges with a smartphone by viewing the video below.
---
PremiSys ID is perfect for creating custom employee badges at your site. From an easy-to-use interface to stored employee badge templates, you'll be creating professional ID credentials in no time. To learn more about PremiSys, click the button below.