It's not a stretch to say that Visitor Management is extremely important for overall safety and security in healthcare facilities.
Consider the following:
70% of victims who experienced trauma from workplace violence worked in healthcare and social assistance industry (CDC, National Institute for Occupational Safety and Health, Occupational Violence)
There was a 50% increase in violence against healthcare staff in 2018 over the previous year (American Society of Health Care Engineering, 2018 Hospital Security Survey)
Private sector healthcare workers in in-patient facilities are 5X more likely to experience workplace violence-related injuries than private-sector workers overall (U.S. Government Accountability Office, Workplace Safety and Health, March 2016)
Yet, even with these alarming statistics, it is estimated that fewer than half of U.S. healthcare institutions have a program in place to identify visitors!
In previous blogs, we discussed calls for increased safety at healthcare facilities and how a good Visitor Management system goes a long way toward achieving that goal of increased safety.
The Joint Commission (JCAHO) appears to agree. Over the last several years, it has recognized the visitor's role in the increase of healthcare workplace violence and has added identifying visitors as part of its compliance recommendations.
Sentinel Event Alert #45 recommends that "the hospital identifies individuals entering its facilities." (EC.02.01.01 EP 7)
Also from Sentinel Alert #45: "the hospital controls access to and from areas it identifies as security sensitive." (EC.01.02.01 EP 8)
Documentation is critical for meeting JCAHO accreditation standards. The right Visitor Management solution easily provides documentation of who enters your facility.
The unique safety challenges hospitals face
Hospitals face many unique challenges in securing their facilities. Even among hospitals and medical centers there are going to be huge differences in safety needs.
For example, an emergency room in rural North Dakota is going to have different security concerns than an emergency room in the heart of Los Angeles.
However, healthcare facilities, by nature, share several common traits that make Visitor Management extremely important, whether you're in the plains of the Midwest or the heart of the city.
1. Hospitals serve a vulnerable population, making security essential.
Whether it's patients who are recovering from illness, visitors who are feeling emotional turmoil over a sick loved one, or employees who are feeling the effects of a stressful day, the people inside a hospital at any given moment are usually fairly vulnerable.
This vulnerability makes it even more important to ensure that these people are kept safe at all times. Your patients, visitors, and staff have enough to think about without worrying about their safety.
You also have to consider what would happen in the event of an emergency situation, like an intruder or active shooter: these people, who are already preoccupied, are likely to have trouble reacting quickly or following directions.
The best way to keep your vulnerable population safe is to take steps to keep threats at bay.
And one of the best ways to do that is by installing a comprehensive Visitor Management system that helps deter nefarious characters and stop incidents before they occur.
2. Sprawling hospital campuses mean there are usually multiple points of entry.
Think about all of the entry points in your hospital or medical center campus: urgent care centers, in-patient facilities, medical offices, testing laboratories, and more. Each entrance and exit creates a variety of opportunities for troublemakers to enter your facility.
Since campus buildings are often connected by walkways or tunnels, medical centers can't afford to have even one unguarded point of entry.
If your campus buildings are connected, your security check-in process is only as strong as its most vulnerable point.
At facilities like this, it's not good enough to have a visitor check-in station only at the main entrance.
A guest who knows he or she may appear on a watch list could simply access your campus through an unguarded door in another building then make his or her way into the main building that way.
Multiple doors mean multiple threats; staffing each door with a Visitor Management installation is a great way to ensure that a door doesn't become a vulnerability.
3. Frequently welcoming visitors is part of hospital life.
Creating a friendly and efficient environment for your patients, staff, and visitors is an important part of running a hospital. And while you want to create a welcoming environment, it's critical to maintain security and to know who is roaming your halls.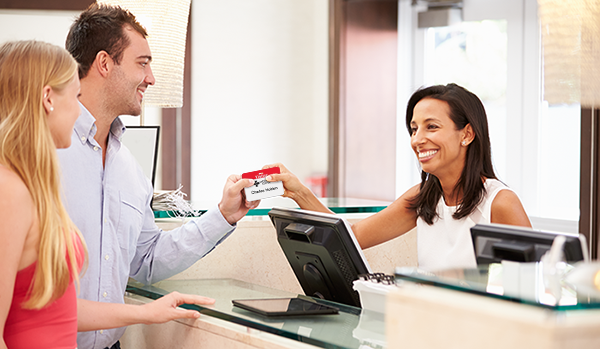 Welcoming visitors requires a delicate blend of hospitality plus security.
This makes having a solution for verifying and monitoring those visitors essential. It's in the best interest of your staff, patients, and the guests themselves to make a guest's visit a pleasant one.
The right visitor management solution ensures that welcoming guests doesn't come at the cost of facility security or vice versa.
---
Interested in learning more about healthcare Visitor Management, or in getting information about how our Visitor Management solutions would benefit your site?
Our team of Visitor Management experts is available to provide you with any information you may need via phone or email — free of charge. Contact us today: 800-233-0298 or click here.