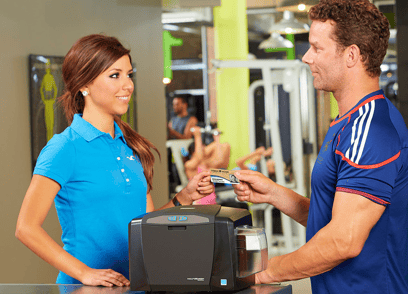 Purchasing a new ID card printer is a big undertaking. With so many variables to consider, it's easy to see why just thinking about buying a new ID card printer can be overwhelming to some.
Think about the number of variables to consider: Magnetic stripe encoding. Lamination stations. Retransfer printing. Dual-sided. Edge-to-edge. Over-the-edge. The list goes on.
"I just want to buy one that will work for me," you end up thinking.
We get it. An ID card printer is a big investment, and you want to make sure you get it right the first time. It's hard enough to run a seamless badging program; it's near impossible to run one if you're constantly worrying about your printer being the wrong one for the job.
With that in mind, we've compiled this list of four essential questions you need to ask yourself when preparing to buy a new ID card printer.
These aren't the only variables you need to consider, but the answers to these questions will help narrow down your search and ensure that you land on the right machine for you.
1. Do you want your ID cards to be single-sided or dual-sided?
If it seems straightforward and simple, that's because it is: choosing the number of sides you'll be printing is one of the most basic, but most important, decisions you can make when it comes to choosing an ID card printer.
Answering this question will knock half of the potential printers off of the list pretty quickly, as several printer models are limited to single-sided printing.
Single-sided ID cards are perfect for organizations that just want something quick and simple that gets the job done. Other organizations may want a more professional, polished look to their cards, opting for dual-sided credentials.
In either case, choosing single- or dual-sided will help you whittle down the list of potential printers quickly.
2. Do you want your cards to do more than just identify the user?
At their most basic, ID cards have one main function: to provide a way to verify someone's identity, whether it's a student trying to get lunch at a college cafeteria or a businesswoman trying to board a flight to New York City.
In that sense, all ID cards "do" something: they verify identity.
However, some cards "do" more than others, and determining whether or not you want your cards to do more than just identify the user will go a long way towards helping you find the perfect printer.
Why? Consider the following:
If you know you'll want to use MIFARE smart cards to process payments or open doors, you'll want to consider an ID card printer with a built-in card encoding module. This will allow you to program these cards as they're printed, saving time.
If you know you want to use cards with a magnetic stripe for payments in the company cafeteria, you'll want to consider an ID card printer with a magnetic stripe encoding module. This will allow you to program the magnetic stripes for use in your system while the cards are being printed.
If you know you want ID cards that just feature a name, title and barcode, you'll be able to choose a printer that doesn't have two-sided printing or photo-quality ribbons. This will allow you to avoid buying a printer that has more features than you need.
By asking yourself this question, you'll be immediately zeroing in on a certain class of printers, paving the way to finding the perfect model.
3. Do you want your cards to have a white border around the edge?
"Ah," you're thinking. "This is the first question I hadn't thought of yet."
And you're right: the first two questions were pretty basic and somewhat obvious. Your print type, however, is something many printer customers initially fail to consider.
"Print type? I want it to be in color, not black and white."
Nope! That's not what we mean by print type. In this case, "print type" refers the area that your machinewill print on the blank ID card.
The two most common print types for ID card printers are edge-to-edge printing and over-the-edge printing.
So what is the difference between the two? Let this graphic show you:

Basically, edge-to-edge printing will leave a small white border around the customized area of your ID card. It won't be a giant white border, but it will be noticeable.
Over-the-edge printing, however, does just what it sounds like: prints up to and over the edges on the surface of your ID card, bringing color or imagery to the entire card surface.
If you prefer one print type over the other, you'll narrow your list of potential printers down even further.
4. Do you want to laminate your ID cards?
The fourth question to ask when buying an ID card printer involves how protected you want those new ID cards to be.
Laminating an ID card has a number of benefits. Putting a coat of protective laminate on a card helps to give it a finished, professional look. Laminate also protects the imprint on your cards, easing concerns about fading graphics or smudged type. Laminate can also help make a card a bit more sturdy, making it less susceptible to bends or cracks.
However, lamination also has an obvious drawback: it's more expensive to create a laminated card than it is to create a non-laminated card. Printing laminated cards requires a printer with a lamination module, and also requires purchasing roles of laminate when you go to order your printer supplies.
Choosing lamination or no lamination will help you slim down that list of potential printers even further, as lamination is a premium feature on most printer models.
---
If you've answered the questions above, you should be a lot more certain about the kind of ID card printer you need.
You came into the post knowing you needed "something that will print cards in color."
Now, however, you know you want a dual-sided, over-the-edge printer that can encode magnetic stripe cards and also offers dual-sided lamination.
Sometimes, you already have all the answers. You just need the right questions!
With your new buying criteria fresh in your mind, head to our online store, where we offer printers from respected brands like Fargo®, Zebra®and IDP®. We also offer a broad line of printer supplies, and our printer support and technical services are second to none. As always, please feel free to contact us with any questions.