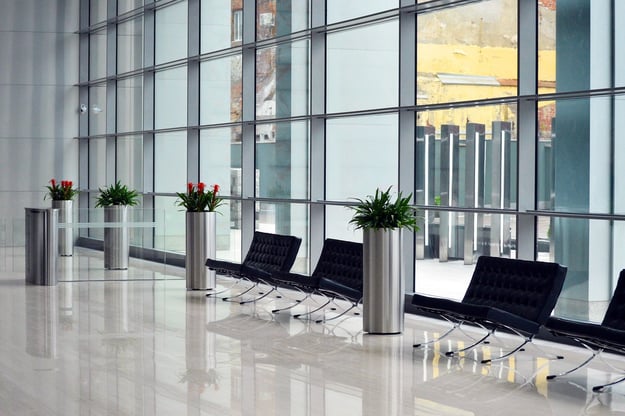 As a business, you spend a lot of time thinking about guests as part of your office visitor policy.
All kinds of guests! Important guests, annoying guests, "I swear I'm not selling anything" guests, corporate guests, unwanted guests...name the guest type, and chances are it has crossed your mind at some point.
However, most of the time an organization spends thinking about guests involves what to do with a guest once he or she arrives on-site:
Management wants to know who's going to be escorting the guest around the office.
Security wants to know how long the guest will be staying.
Your employees want to know if this guest is important enough for an office lunch to be provided.
To be fair, the lines of thinking above make a lot of sense. After all, you're the host organization; you're worried about hosting.
But to get the most out of your visits, you need to think about things from your guest's point of view.
By putting yourself in the shoes of your guests, you're able to address their needs, identify their pain points and improve your processes to a point where all of the anxiety of a visit is taken away.
Better processes lead to better visits
To understand the tips below, all you have to do is think about any office or business visit you've ever been on.
Think back on the things that caused anxiety, the hiccups that made you think poorly of the organization or the confusion you felt arriving at what looked like the wrong building.
"Is it this door?"
"Can I park here?"
"Does this buzzer even work?"
Those aren't questions you want your guests to have to ask themselves upon arriving at your site!
By following the tips below, you'll be able to create a smooth visiting process that gives your guests a great first impression of your organization and ensures that every visit will be as productive as possible.
1. Give your guests the info they need prior to arrival.
It's the night before your visit with a potential business partner.
You've got your clothes all ready to go, your alarm is set at a few different times (in case of the dreaded snooze button) and you're turning in early to be ready to go. Before dozing off, you realize you have no idea where you're going to park your car during the visit.
Suddenly, you're up and on the computer, checking to see if there's street parking near the office or if the business validates parking for the nearby garage. Instead of getting ready for an important meeting, you're anxiously researching parking options.
Does that seem like a great way to spend time before a visit?
Of course not! But this could be what many of your own guests experience prior to visiting your site.
Because you're there every day, you forget that not everyone knows the ins and outs of your building: where to park, where to eat, etc.
For guests, however, just getting to the building can be one of the most stressful parts of a visit. Common pre-visit worries include:
Where to park
How to get into the building
Instructions for dealing with security
The safety of the surrounding neighborhood
Items to bring to the visit (including ID requirements)
Food/drink in the area
The best way to make a visit easier on your guests is to provide them with the information they need, before they even get to your facility.
By sending pre-visit emails or text messages, you're able to communicate important information to your guests, helping them be better informed when they arrive while also reducing pre-visit anxiety.
Consider informing your guests about where to park, what kind of ID is required to enter the building and which local coffee shop is your favorite — they'll appreciate the effort, and you'll get a better visit out of it.
2. Provide clear signage upon arrival.
Once a guest gets to your building, you want to make sure he or she has no trouble actually getting to your reception area. After all, the commute to the building is only half the battle.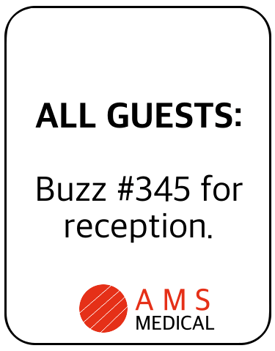 For employees, it can be easy to forget that there are actual procedures to get inside a building. Since you work there every day, you just swipe your card and the reader and walk in — easy!
For guests, however, it's a whole different process.
If you use a card reader and access credentials to open a locked door, how would a guest get inside? Is there a bell? An intercom? A staffed reception desk?
The last thing you want is your guest to be banging on the door or to have to call someone to be let inside. No guest should feel like he or she just got locked out of the car!
To make things easy on your guests, consider taking the following steps:
Include clear instructions on what guests need to do to get in the building (e.g. "press buzzer," "ring bell"). These could also be included in the pre-visit message mentioned above, but it's important to reinforce the instructions at your site as well.
Frequently check any buzzer or intercom systems to make sure they're working correctly.
Include your brand's name or logo somewhere in your building's public space. This way, your guest will know that he or she is in the right place.
The best way to check all of these at once? Consider trying to enter your facility as a guest once or twice every few months!
This way, you'll get a great idea of what guests experience coming to your site, while also getting a chance to raise any red flags or fix any issues before they balloon into bigger problems.
3. Create a nice waiting area.
If your guests are going be sitting and waiting for the host to arrive, they may as well be comfortable!
We published a post recently on 8 Ways to Improve Your Lobby, and all 8 tips had the same goal in mind: make things better for your guests!
By creating a space where your guests can relax for a second and catch their breath, you'll be putting them more at ease prior to the start of the visit.
Tips from the post include:
Keeping guests comfortable
No old magazines!
Offer refreshments
You don't want them sitting in there for too long, but by creating a nice lobby space, you're showing guests that you have their best interests in mind.
4. Be on time.
This is #4 on the list, but is arguably the most important: don't make your guests wait!
We get it: work days get busy. A call runs long, a meeting drags on, that project takes a little longer than normal.
However, those excuses simply can't be accepted when it comes to hosting a visitor.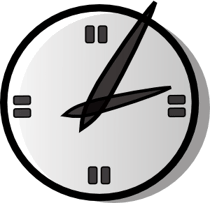 To you, being a little late says "this guest is going to think that I'm working so hard!" To the guest, it says "this person forgot I was coming."
You know you shouldn't keep your guests waiting, but how do you ensure all guests are greeted within a reasonable amount of time?
Set up a system of alerts using a program like Google Calendar that will send notifications prior to a guest's arrival. Encourage your staff (or make it a requirement) that all visits are scheduled in that program, ensuring that none slip through the cracks.
You can also use a Visitor Management program that will alert the host once a guest signs in at the front desk. The host can receive an email or SMS saying that the guest has arrived in the lobby, encouraging the host to greet the guest promptly.
With calendar or notification programs, the host will be alerted well before a guest is scheduled to arrive, allowing the host to clear his or her schedule to accommodate the guest and making the guest feel like less of an afterthought.
---
While Visitor Management is usually used to track guests once they arrive, it can also be used to streamline and improve the entire visitor process. From pre-visit alerts to guest sign-in/sign-out, a good Visitor Management program makes visits better for guests and hosts alike.