As governm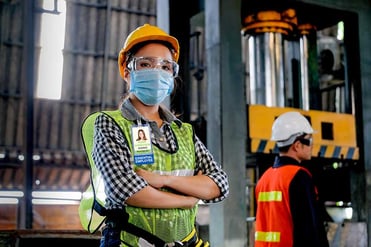 ent mandated shutdowns and social distancing efforts to combat the rapid spread of COVID-19 reshape our everyday lives, there are many businesses and organizations that have been deemed essential and are open to keep the country running.
While the Department of Homeland Security issued guidance on organizations that are essential to infrastructure, it is up to individual states and counties to deem which businesses are essential.
Essential businesses need to identify their employees who are authorized to be on site or they run the risk of employees being obstructed from entering the campus or causing unnecessary delays. It also helps identify the people that don't belong on premises and provides peace of mind that businesses are taking necessary steps for safety and precautions. In addition to a standard employee ID badge that's issued to all employees, here are five simple ways to identify these essential employees.
1. Authorization Letters
Most businesses have provided a letter of authorization on company letterhead to their essential employees to indicate they are permitted to work and to be on premises.
2. Essential Worker ID Cards
Custom ID cards or badges that identify essential employees are worn in addition to a standard employee badge. This allows employees to show their credentials to authorities.
3. Essential Worker Badge Buddies
Badge Buddies that are printed with "Essential Employee" are an ideal option to identify employees and can be worn with a standard ID badge. They are brightly colored with large text to easily see from a distance. You can also create your own custom Badge Buddies design online with a few clicks.
4. ID Badge Stickers
Brightly colored stickers that indicate a special code or designation indicating the employee is an essential employee. Some codes are "EE" or "Essential" or an organization-specific code or color that is easily recognized by campus security. Other organizations have used colored circle stickers to identify employees each day as they are screened upon entry to ensure no COVID-19 symptoms are present.
5. Essential Worker Parking Permits
Identifying vehicles that are permitted on the grounds of essential businesses is another consideration. Brightly colored parking permits make it easy for security personnel to see which cars are authorized and if any are missing the required permit to park on the grounds. Parking permits can be customized and serialized and then issued to essential workers.

PDC IDenticard offers a wide range of stock and custom ID cards, parking tags, identification badges, and Badge Buddies to support essential businesses by identifying personnel who are authorized on the premises. All items can be customized and quickly produced to meet business requirements. Visit our Essential Worker ID Credentials page to learn more.