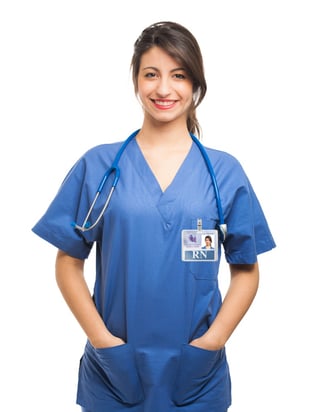 Badge Buddies role-recognition cards have become as common a sight in hospitals and medical centers as stethoscopes, scrubs and white coats.
These ubiquitous ID accessories are popular for a number of reasons. They're affordable, they meet some state ID requirements and they're easy to customize.
When doctors, nurses, technicians and other hospital employees go about their busy days, Badge Buddies go along for the ride.
However, Badge Buddies were often left exposed due to their larger size, as they don't fit in standard-sized ID badge holders.
This left Badge Buddies (and the ID cards attached to them) exposed to all aspects of hospital life, including the potentially dirty hands of patients, dust, water and sanitizer, which can be harmful to printed imagery.
Being exposed to abuse like this drastically reduces the life of both the Badge Buddy and the employee ID badge, increasing both cost and frustration.
However, there's now a quick and simple way to increase the life of both credentials.
A new way to hold your Badge Buddies
Protecting your Badge Buddies from damage is now pretty straightforward, thanks to our new Badge Buddies badge holders.
What are Badge Buddies badge holders?
This one is pretty simple: Badge Buddies badge holders are...badge holders for Badge Buddies!
These vinyl badge holders look and feel like a common badge holder, offering a way to protect a credential from damage while still displaying its face.
The difference between standard badge holders and Badge Buddies badge holders is size: these holders have enough room for both a standard-sized Badge Buddy and a CR80-sized ID credential.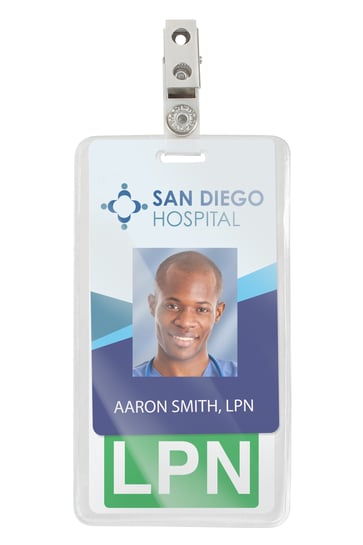 This bigger size allows an employee's entire credential system to be kept safe from debris and damage.
How do Badge Buddies badge holders extend the life of your credentials?
These badge holders act as a barrier between your credentials and the outside world. In an environment like a hospital, that barrier is critical.
Think of everything that flies around in a busy hospital room: medication, bodily fluids, water and more are constant presences.
And let's face it: the field of medicine isn't always neat and tidy. A hospital room in an emergency situation can be messy and downright chaotic, leaving little time to worry if an ID badge is being kept clean.
Without using a badge holder, Badge Buddies and ID cards will be exposed to all of these sources of potential damage.
Even wiping an unprotected Badge Buddy or badge holder clean comes with risks, as there's a chance that the print on the credentials could wear off.
By putting your Badge Buddies in a badge holder, you're able to keep potentially damaging materials from ever coming into contact with your credentials; this helps prevent damage.
In fact, putting your credentials in a Badge Holder also protects against routine wear-and-tear, making frayed or cracked credentials a thing of the past.
Credentials that last longer will lead to fewer replacement credentials, which saves an organization time and money.
Watch a video
The details
Made of flexible vinyl
Available in horizontal and vertical orientations
Room for one standard-sized Badge Buddy and one CR80-sized card
Insert dimensions of 2.15" x 4.55" (55 mm x 116 mm) for vertical holders and

3.40" x 3.15" (86 mm x 80 mm) for horizontal holders

Slotted for easy attachment with a vinyl strap
---
Interested in getting Badge Buddies badge holders for your site? Feel free to browse our online store to get more information, or request a sample so you can experience these holders for yourself.