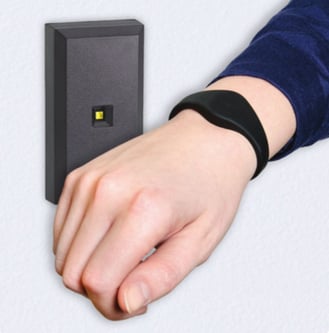 Access cards are a great solution for door control. They're easy to use, combining a familiar form factor (the card) with a simple swiping motion to grant access to doors, closets, cabinets and more.
In the world of door and access control, cards are king. Access cards have been around for decades, and haven't really changed much: a slot here, a serial number there and maybe a little slimming down.
However, while we love our cards, proximity technology has advanced since the early days of the prox card. Proximity chips have gotten smaller in both thickness and diameter, enabling manufacturers to do things with the chips that weren't possible 15 or 20 years ago.
These new options for access and door control provide the best of both worlds, offering familiar proximity technology in a sleek, modern package.
So...how can you diversify your door control and access card program?
1. The future is now with wearable proximity wristbands
Wearable technology devices, more casually referred to as "wearables," are the newest craze in the tech world. From smart watches to Google Glass (OK, so maybe that one didn't quite work out), everyone is looking for a new way to incorporate some form of technology somewhere on the human body for a more seamless tech experience.
And while your concerns about this technology eventually turning us into a bunch of Terminators may be valid, it's OK to admit it: these wearables are pretty cool. With wearables flooding all corners of the tech market, it's not a surprise that they've entered the identification and security arena in the form of wearable proximity wristbands.
Wearable proximity wristbands are, as you may be able to guess, like having a proximity card on your wrist. Called a UBand™, this silicone rubber wristband contains a small proximity chip that can be programmed the same way a card is programmed.
The wristband sits comfortably on the wearer's wrist, safe from tangles, snares and forgetful people. Because it requires no attachments and won't get put in a pocket, a proximity wristband is even easier to use than a card.
How easy?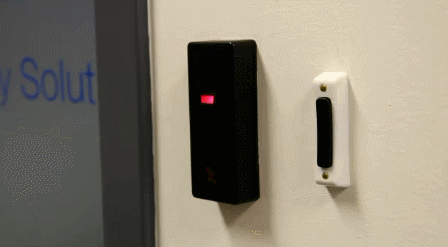 It's that simple! These silicone proximity wristbands are perfect for any organization looking to bring an access or door control program into the 21st century, but are particularly useful in active settings like gyms and health clubs, water parks and more.
UBand can be custom ordered in several colors and with a custom graphic or logo. If your organization doesn't use proximity cards for access control, UBand is available in MIFARE technology as well.

2. Proximity key fobs: Access control, in your pocket
As we discussed above, technology has gotten smaller in recent years. And while we think all cards are beautiful just the way they are, it's no secret that a smaller size would be more convenient.
Enter the fob. The fob? Yes, the proximity key fob, a small, disc-like item that contains a proximity chip. It's an interesting word: Fob, fob, fob.
"Never heard if it," you may be thinking.
But chances are you've encountered a key fob at some point, usually on a key ring. You may know them by another name, like a key tag, prox disc or access disc.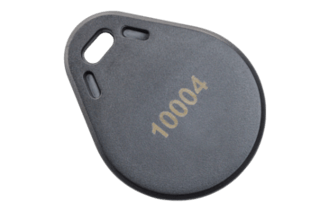 However, a fob by any other name is still a fob, and it still performs the same simple function: Convenient access in a tiny package.
Key fobs are around an inch in diameter and just millimeters thick, yet they're able to perform the same functions as a standard proximity card.
When it comes to fobs, convenience is "key": While proximity cards usually require a lanyard, badge reel or badge holder to be used, the key fob can be slid onto a set of keys and carried in your pocket. With its tiny size, you won't even notice that it's there until it's time to swipe it.
Why would a proximity key fob be right for you?
If you have a door control program that doesn't require a photo ID, you can eliminate cards entirely by switching to a fob.
Fobs are also more durable than PVC ID cards, and, if attached to a key ring, are less likely to be misplaced.

---
As you can see, there's really no wrong way to use proximity technology in your facility's door control system. It'll depend on your unique needs: If cards are for you, we get it (after all, we are named "IDentiCARD").
However, as technology advances, these new form factors are worth considering. They'll get your employees talking, draw attention on the street and might even lead to your site being known as the cool proximity user on the block...
---
How would these different proximity formats work in your door control system? Do you see any hurdles to implementing these at your site? Let us know by leaving a comment below!