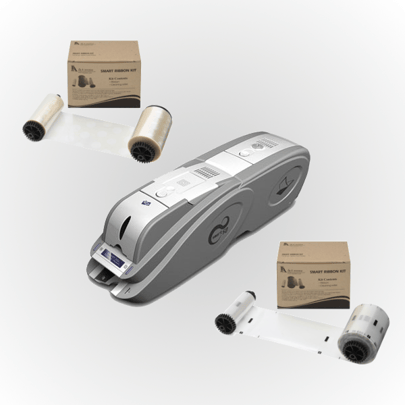 When choosing a new ID card printer, one of the more important decisions you'll make is whether you want a laminating printer or a standard printer without lamination.
Why? Because choosing one over the other drastically alters your next steps.
Laminating printers are more expensive and require more printer supplies, but the cards they create are going to last much longer than their non-laminated counterparts.
For this post, we're going to assume you decided to make a bigger up-front investment and went with a laminating printer, because you don't want to worry about replacing broken ID cards every few months.
Great!
However, your decision-making days aren't over: you still need to decide what kind of laminate you are going to use to protect your new ID credentials.
Holo or plain? The choice is yours.
When it comes to choosing the style of laminate for your ID cards, you have two main options: clear laminate or holographic laminate.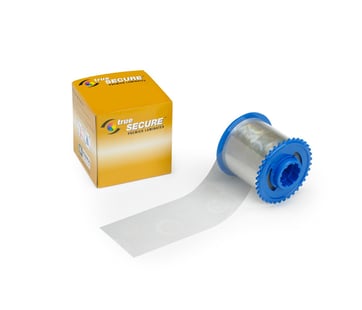 Sure, you have to choose other, lesser details, like laminate thickness (1 mil is good enough for most uses). But whether you go clear or holo is really the biggest decision you need to make.
(We should note, before continuing, that holographic and clear laminates are both technically clear, i.e. transparent. In this case, "clear" refers to the fact that there's no imagery printed on the laminate. "Plain" would be another good way to describe it.)
There are arguments to be made for both sides, and you can't go wrong with either. In most cases, it's not like choosing holographic over clear (or vice-versa) will ruin your ID cards.
However, there are reasons to choose one type over the other.
Choose holographic laminate if...
Security is a major concern The main reason to choose holographic laminate over clear laminate is to protect your cards from counterfeiting. The holographic laminate reflects in the light, making it easy to see that a card is legitimate. If a forger tries to copy your card, the holographic properties are nearly impossible to duplicate.
You're looking for a "wow" factor Let's be honest: holographic laminate looks cool. The way the imprint shines and reflects the light really makes it stand out. If you're looking for your employee badges or government ID cards to make a statement, go holographic.
You have the room in the budget Holographic laminate ribbons generally cost more than their clear counterparts. If you have room in the budget to spend the extra cash, the security and "wow" factor you get in return will be worth it.
Choose clear laminate if...
Price is a major concern As stated above, clear laminate ribbons are usually cheaper than holographic laminate ribbons. If your organization is looking for something no-frills that gets the job done with the lowest investment possible, clear laminate is the way to go.
You're looking for something basic Some organizations want their ID badges to be understated, not flashy. If your ID badges are meant to fly under the radar, clear laminate would be a better choice.
You want your card face to be the focus Occasionally, a sleek, attention-getting holographic design can get too much attention, taking focus away from the ID badge itself. If you put a lot of effort into a unique, attention-getting card design and want it to stand out, you're better off coating it in a clear laminate rather than a holographic one, which may hog some of the spotlight.
---
Whether you're looking for a holographic laminate, a clear laminate, a color ribbon or a cleaning kit, IDenticard has the PVC ID card printer supplies that you need.
We're proud to offer supplies (and the printers that use them) from leading manufacturers like Zebra®, IDP® and Fargo®. Our online Printer Supply Finder tool makes it easy for you to zero in on the supplies you need. Remember: online orders of more than $99 ship free!