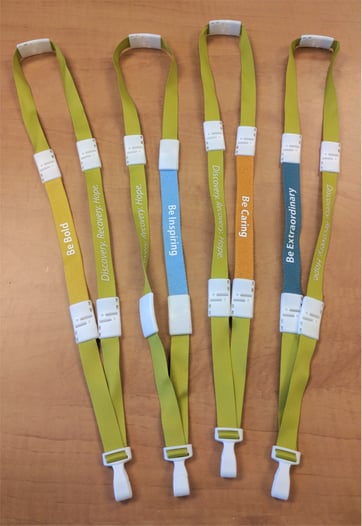 The administrators at Ontario Shores Centre for Mental Health Sciences had a dilemma: they needed to roll out a new strategic plan to their staff, but wanted to do so in a fun, creative way.
Who knew that custom lanyards would be the answer?
Based in Whitby, Ontario Shores provides a variety of inpatient and outpatient mental health services to patients ranging from adolescents to seniors.
Part of Ontario Shores' mission is to provide kind, compassionate service to each of its patients.
That desire was a key part of the facility's drive to implement a new Strategic Plan, which would lay out a number of Strategic Directions to follow over the next five years.
Ontario Shores wanted to create unique, branded items that could be issued to staff members to help spread the new Strategic Directions.
The goal was to allow staff members to promote and embrace these new Strategic Directions in a fun way.
Ontario Shores had an idea, but wasn't sure how to make it reality.
Luckily, the facility was working with an ID manufacturer that has a wealth of experience creating custom solutions.
Taking the mission with you, from idea to implementation
Ontario Shores had an existing relationship with IDenticard, so the facility turned to District Sales Manager Jennifer Locke for help.
"We wanted a way for staff to connect with the new Strategic Directions," said Andrea Marshall, Director of Communications and Public Affairs for Ontario Shores. "The encouragement we got from the team at IDenticard was outstanding; they went above and beyond to ensure they delivered a product that met our needs and vision."
Ontario Shores was using four-breakaway lanyards to display employee credentials; this meant that each lanyard had two small "strip" sections between the four breakaways.
The idea was to use those sections to create custom lanyard strips that employees would be able to mix and match; each strip would feature a specific color and custom-printed text featuring a particular Strategic Direction.
The facility hoped that being able to choose strips would encourage employees to pay closer attention to each Strategic Direction, and that having them present out in the workplace would serve as a daily reminder to act with each one in mind.
"IDenticard created lanyards that use brand supplementary colors and represent each Strategic Direction," said Marshall. "Be Bold, Be Inspiring, Be Caring and Be Extraordinary."
By using our custom manufacturing capabilities, IDenticard was able to bring these custom lanyard strips to life. While a product this unique wasn't without bumps in the road, the end result was exactly what Ontario Shores had hoped for.
"Although we were faced with few technical issues, IDenticard were prompt in finding a solution to our lanyards," said Jordan Leroux, Communications Coordinator for Ontario Shores. "The team was helpful and committed to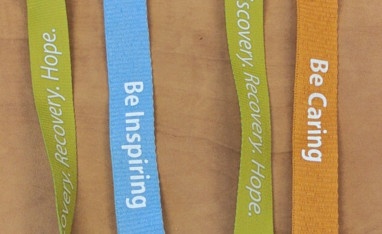 ensuring we were happy with the outcome. IDenticard was extremely responsive and supportive throughout this process."
As for the lanyards themselves (see the closeup photo to the right), the staff at Ontario Shores has really taken to them and has taken to spreading the imprinted messages.
"The lanyards have been by far the most popular promotional item that's been provided to staff," said Marshall. "They have been approaching us looking for lanyards based on words and colors."
"Staff members wear the lanyards proudly," she added. "The response has been extraordinarily positive!"
With the project now implemented and the lanyards being worn by staff members, what started out as an idea has become a successful ID program — all due to a great line of communication between Ontario Shores and IDenticard.
"The best part about working with IDenticard was the positive working relationship that has resulted in a quality product with a positive uptake from our staff," said Marshall. "From day one, the team at IDenticard supported this creative process and provided additional input along the way."
---
Interested in creating custom lanyards for your site?
Use our innovative online design your own custom lanyards tool, which allows you to choose your material, imprint method and more — you can even upload your own custom imagery!
If you're interested in custom-manufactured lanyards, like the ones we created for Ontario Shores, let us know by contacting us using our online form.