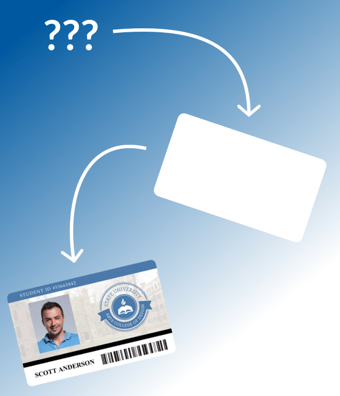 Your mission: You need to buy ID cards.
Your company has decided to start an identification program by issuing employee badges, and you've been given the honor of figuring out how to get it done.
Where do you begin?
If you're like most people these days, you head to the Internet. However, typing "ID cards" into Google will present you with an overwhelming number of terms and options.
CR80, mils, CR100, composite, laminate, holographic foil, overlays...
You never knew there were so many choices for creating what you've always viewed as just a small piece of plastic.
Don't be overwhelmed!
Yes, there are tons of options when it comes to choosing the kind of card you'll be using for your ID program.
However, you can narrow your search down to the few cards that meet your needs by asking a series of key questions about what you're trying to get out of your ID program.
We've compiled a list of these key questions, which are designed to help you determine what criteria are most important to you. These important details are what will lead you to that perfect ID card, and to a sense of "mission accomplished."
ID cards? We've got questions, and you've got answers.
Keep in mind that these questions are only meant as a guide, designed to help you get a better idea of what you need. This list might not lead you to the exact card you need, but you'll benefit from doing something as simple as narrowing things down by size, card type or print method.
If you have questions about ID card specifics after answering these questions, let us know! We're here to help.
1. What size do you want your ID cards to be?
"Wait, there are different sizes?!" Yup! Several, actually. Choosing your size is a great place to start.
CR79 ID cards

measure 2.05" x 3.30". They offer just enough room to print a photo and some text, but aren't ideal for users who want detailed custom imagery, large photos or bar codes.
CR80 ID cards, also known as

credit card size, measure 2.13" x 3.38". They are the most common ID card size, and are the size you'll be most familiar with: CR80 cards are used as ATM cards, drivers' licenses and, yes, credit cards.
Data collection-sized cards

measure 2.31" x 3.25", slightly larger than their CR80 card cousins. These cards are commonly used with bar codes or magnetic stripes.
CR100 ID cards, also known as

government-sized credentials, are perfect for those looking for plenty of space. Government-sized cards measure 2.63" x 3.88". They're popular with government agencies because they offer enough space for a large photo and a bar code/magnetic stripe.
For more information on ID card sizes, check out our helpful infographic.
2. How do you want to customize your ID cards?
Adding imagery to your ID cards is (obviously) a pretty important part of the whole process. It makes sense, then, that determining how you're going to get your photos, graphics and text onto your blank cards is equally important.
If you want to create custom ID cards with a

standard inkjet printer, you need to use

synthetic paper ID cards, like our JetPak™ cards. These cards are microporous, enabling them to absorb the liquid ink used by inkjet printers. Your finished cards will look professional; however, the print speed of inkjet printers isn't very high, meaning these cards aren't ideal for high-volume card printing operations.
If you're willing to invest in a

dedicated ID card printer, choose

composite or PVC ID cards. These printers are able to churn out fully printed ID cards in just seconds, making them perfect for high-volume card-printing operations.
3. Do you want to laminate your ID cards?
Adding lamination to your ID cards helps them last longer, protecting them from smudges, scratches, dirt, water damage and more. Plus, the laminate layer helps your ID cards look that much more professional.
If you

don't want lamination

at all, choose standard PVC or composite ID cards; JetPak™ synthetic paper cards must be laminated in order to create the finished solution.
If you want

light lamination, go with regular PVC cards. PVC can warp with the heat that comes with heavy lamination, but is able to stand up to thin layers of protective laminate.
If you want

heavy lamination

for maximum card longevity, go with composite or JetPak™ synthetic paper ID cards. These cards are more durable and better able to handle extreme temperatures than normal PVC cards; this means they'll be able to take the heat of heavy lamination.
4. What do you want your ID cards to do?
All cards "do" something: they positively identify the wearer. However, some cards "do" more than others. Determining whether or not you want multi-functional ID credentials will help you choose the right kind of card.
If you want to use your cards for

identification only, go with a standard PVC, composite or JetPak™ synthetic paper card. All three materials are able to be used as ID-only, and each will product professional results.
If you want to use your card for

ID and access only, choose a

proximity card. Proximity cards contain a chip and a wire that allows the card to interact with a reader to open doors.
If you want to use your card for a

variety of purposes, go with a

MIFARE smart card. These cards can be programmed to perform several different tasks, including opening doors, making payments and recording attendance.
If you want a card that can

perform tasks without including internal technology, choose a magnetic stripe card or a card with a bar code. These cards can interact with readers and scanners in a variety of ways, making them versatile without the higher price that comes with internal technology cards.
5. How secure do you want your cards to be?
No organization wants its ID cards to be duplicated without authorization, but some are more lax about it than others. For example, a local library will have different security requirements than the CIA...unless you have a really secure library.
If you're

not concerned about card security, go with standard PVC ID cards. Printing simple photo ID cards with no embedded security features calls for a simple solution, and these cards are often the easiest to use and the most affordable option.
If you're

very concerned about security, choose a JetPak™ synthetic paper card. These cards are able to feature up to a dozen security features, both obvious (holographic foil seals) and subtle (tiny print nearly invisible to the naked eye).
---
That's it! Ideally, you started to see a pattern when you were answering these questions, i.e. one card type kept coming up. If so, there's your answer!
We offer a full suite of ID cards of all kinds, from standard ID cards to MIFARE Classic® 1K smart cards. Choose the one that this list suggested, and you'll be badging in no time.