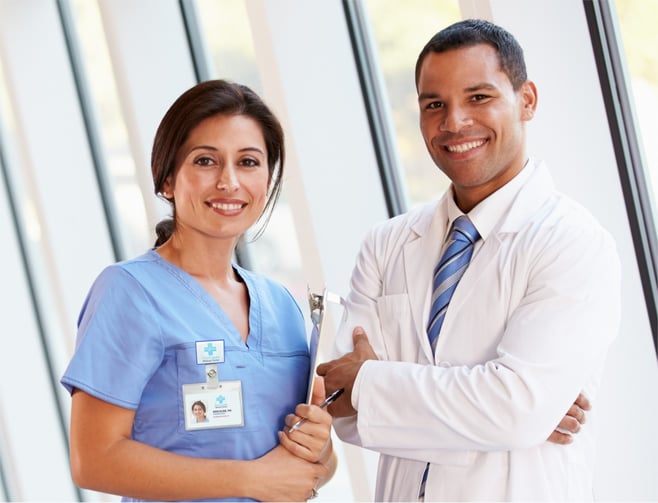 It's no secret that the world of healthcare has its fair share of unique identification and security challenges.
From how to choose the right Visitor Management system to how to design that perfect employee badge for doctors or nurses, questions about healthcare ID and safety are plentiful.
However, there are also aspects of a healthcare ID program that move beyond mere questions and are instead essentials, namely a good ID card and a good way to carry and display that card.
In many parts of the country, patient-facing healthcare workers are required by law to wear an ID badge with their name and photo.
These policies exist for a number of reasons. ID badges foster a more friendly environment in the facility by allowing patients to know the name of the person who is providing care. They also bolster security by positively identifying authorized personnel, helping decrease the likelihood of impostors.
The fact that ID badges are a requirement means that, by relation, having a way to wear those ID badges becomes a de facto requirement as well.
With so many card-carrying options out there, is one option really that much better than another?
Yes, actually.
Customizable, convenient and easy
We've spent some time in this blog before discussing why our twist-free badge reel is a great solution for healthcare employees. That remains true today: the B-Reel® is sturdy, reliable and keeps a card facing front, something that's a legal requirement in certain states.
However, some healthcare employees who are more active, like emergency nurses and others who are frequently rushing around, preferred an attachment that didn't feature a cord, as the cord increased worries about tangles and snares.
Strap clips are great for that, as they remain close to the body at all times; however, strap clips are a plain, understated solution that lack the space for custom branding.
Enter the LogoClip!
LogoClips are a hybrid of a strap clip and a badge reel: they feature the customization capabilities of a badge reel with the "closeness" of a strap clip.
LogoClips feature a vinyl strap end fitting, but don't feature a cord; this helps eliminate worries about tangles or badges dangling over patients while providing care.
There are several reasons why our healthcare customers have found LogoClips to be a great solution. We've outlined a few of them in the graphic below!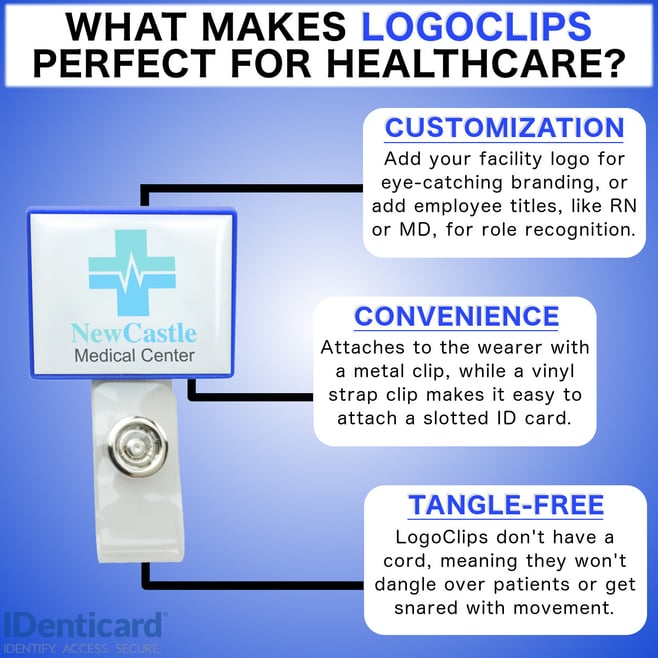 ---
Interested in getting LogoClips for your site? Browse our online store to get more information. Be sure to contact us for information on how to get your LogoClips customized to feature your logo and branding.