Product Spotlight is a feature that will run multiple times a week, designed to showcase individual products in our broad offering. We'll highlight key features, discuss how the product is used and more. Interested in seeing a particular product featured here? Let us know!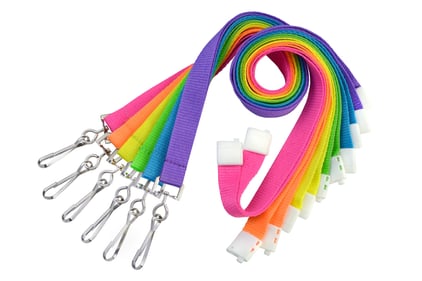 Product: Neon Breakaway Lanyards
Product Category: Lanyards
SKU: 2138-5043, 2138-5044, 2138-5045, 2138-5048, 2138-5049, 2138-5050
Have you ever wished you could get lanyards so bright that they make the sun look dull in comparison?
Boy, do we have the lanyards for you!
OK, so maybe they're not quite as bright as the sun. But they're close, and the vivid colors of our neon breakaway lanyards make them perfect for those seeking a simple, attention-getting card attachment solution.
These lanyards are fun, featuring bright, happy colors that help make your attached ID card or ID badge holder really stand out.
Black? Blah. Blue? Boring! Green? Get out of town!
Neon is where it's at, and these colorful lanyards will help brighten any ID card program.
Learn how neon breakaway lanyards add brightness to your card program
We love our normal-colored lanyards, like reliable red and sturdy silver. But let's be honest: sometimes, you need to add a little pizzazz to your life, a little excitement. That's where these neon lanyards come in.
Our neon lanyards are available in six neon shades: neon pink, neon orange, neon yellow, neon blue, neon purple and neon green. Each of these shades has its own special characteristics:
Neon pink: Like the brightest bunch of cotton candy you've ever seen, this shade will bring some sweetness to your card-carrying program.
Neon orange: As bright as the traffic cones that line local roads and interstate highways, this shade of orange ensures you'll never be overlooked.
Neon yellow: Like a sunflower bathed in summer sunlight, this yellow lanyard will brighten up any attached ID badge or card.
Neon blue: With its shocking shade of electric blue, this lanyard will add a spark to anyone who wears it.
Neon purple: Like those highlighters you used to use back in your school days, this lanyard will be the highlight of your ID program.
Neon green: With the vibrant look of fresh spring grass, this lanyard adds a breath of fresh air to any card-carrying program.
Key features & benefits
The eye-catching neon colors that these lanyards offer are a great way to attract attention. For organizations looking for an attention-getting solution without the cost of creating a custom lanyard, these neon lanyards are a great fit.
With six neon shades available, you can buy multiple colors and use them to differentiate between different personnel at organizations of all kinds. Use a neon pink for camp counselors, neon orange for campers and neon yellow for administrative staff to provide easy role-recognition at a simple glance.
The nickel-plated steel swivel hook end fitting makes it easy to attach a slotted ID badge or badge holder. The end fitting's durable steel material ensures that it will stand up to frequent use.
A plastic breakaway makes this the perfect safety lanyard for children or for use by any personnel on active job sites, like factory manufacturing lines or construction sites. The breakaway will come apart under an excessive amount of pressure, eliminating worries about tangles and snares.
How is it used?
Perfect for any organization with an ID program currently using lanyards that just wants to add a little fun to their card-carrying program
Great fit for those looking for a bright, eye-catching solution without the cost of a custom product
Safety breakaway makes these lanyards perfect for schools, factories, construction sites or other locations concerned about the dangers of snares and tangles