For generations of healthcare professionals it's been the same routine. Enter an MRI room and off comes everything metallic, including the badge reel holding ID cards, badges and other credentials – many of which are required to be worn by law or company policy. The magnet rooms are a ferrous-metals-free zone.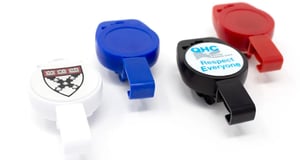 Now there is a solution. PDC/IDenticard is now making and selling magnet-safe badge reels made completely from non-ferrous materials.
What is Non-Ferrous Metal?
Non ferrous-metal means metal that does have iron in it and is therefore unaffected be magnets. These new badge reels, available in four colors and fully customizable, contain no ferrous metals, as they are attached to the body with a plastic clip. The MRI-safe reels are also clothing-friendly and feature no-twist capabilities to keep credentials facing forward.