Product Spotlight is a feature that will run multiple times a week, designed to showcase individual products in our broad offering. We'll highlight key features, discuss how the product is used and more. Interested in seeing a particular product featured here? Let us know!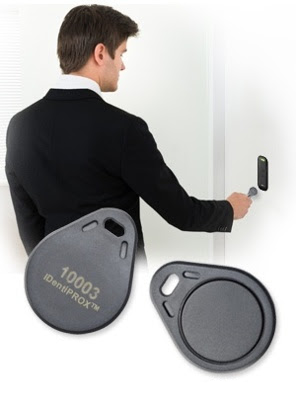 Product: IDentiPROX™ Key Fobs
Product Category: Proximity Cards and Accessories
SKU: IDPROXKFOBXXX
Proximity technology remains one of the most popular tech formats for building access control.
With several different formats to choose from and the convenience that comes with just waving a card in front of a reader, it's no surprise that office buildings, schools, government facilities and more have made proximity their technology of choice.
The proximity card, also known as a prox card or a proxy card, has long been the standard when it comes to proximity access.
Normally the size of a credit card (2.13" x 3.38"), proximity cards contain a thin wire and a proximity chip that enables the card to be read and processed by a compatible reader.
Proximity cards provide the added benefit of being able to be used for identification as well as access. For example, our JetProx™ proximity cards can be customized using a standard inkjet printer, enabling you to use the same card for ID and access.
This is great for organizations that need a card or employee badge that can do both. However, some organizations would rather keep their ID and access control programs separate, while some may avoid issuing ID cards entirely and just need an access solution.
What are those organizations supposed to do, just buy a card and leave it blank?
Nope. They can use the IDentiPROX Key Fob, our latest proximity accessory.
Why is the IDentiPROX Key Fob a good alternative to the prox card?
Essentially, the IDentiPROX Key Fob is like a tiny proximity card. It does the same thing as a prox card, but it obviously isn't a card; therefore, it's what we refer to as a proximity accessory.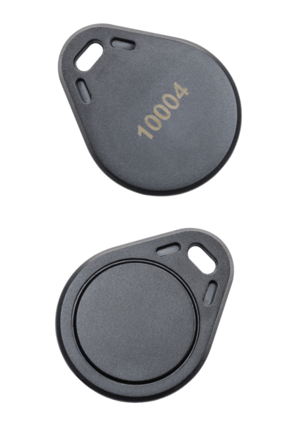 Each fob is made of durable ABS plastic, meaning it will stand up to the wear and tear that comes with frequent use. The key fobs are just millimeters thick, around the same thickness as a standard proximity card, and are just over an inch in diameter.
Key fobs are widely used across several different industries. They're normally used for standard door access control, but are also a popular solution for parking control: fobs are attached to key rings and swiped in front of readers to grant access to parking lots or parking garages.
Unlike proximity cards, which can be customized in nearly limitless ways, IDentiPROX Key Fobs are basic: each looks pretty much the same, aside from a laser-engraved serial number on the back. For some, this is a selling point, as the fobs are very simple and easy to use.
However, don't let "basic" trick you into thinking the IDentiPROX Key Fob is a lesser accessory. The fob is available in several bit formats, including 26-bit, 35-bit and 37-bit.
The fob is also compatible with certain 125 kHz HID®-brand proximity cards and fobs, allowing you to make the switch away from the big brand without having to change your system.
As an accessory, key fobs can really be used anywhere a proximity card is used. However, they're most popular in systems where a separate card (say, a standard PVC card with no technology) is used for identification, or at organizations where ID isn't necessarily a requirement.
Key features & benefits
Small size and slotted top makes it easy to carry the IDentiPROX Key Fob on a set of keys
Available in the most common proximity formats, including 26-bit, 35-bit, 36-bit large format, 37-bit and 37-bit encrypted
Fob serial number and the "IDentiPROX™" name and mark are laser-engraved on the back; this helps you keep track of fobs in a crowded system, and also reminds you what it's called when it's time to order more
Compatible with certain 125 kHz HID®-brand proximity cards and fobs, allowing you to switch from the big brand to our brand and save money in the process
Lead times are just five days, regardless of the quantity
How is it used?
As we said above, IDentiPROX Key Fobs can be used anywhere a regular proximity card is used. However, we've found them to be particularly useful in these situations:
For use in parking control, particularly in employee parking areas or at parking lots that sell monthly passes
In small offices that use a door control system but don't require photo ID
In offices where access is only granted to certain personnel, making issuance of a proximity card to every employee wasteful
As a complement to an ID card in government facilities, schools and corporate offices