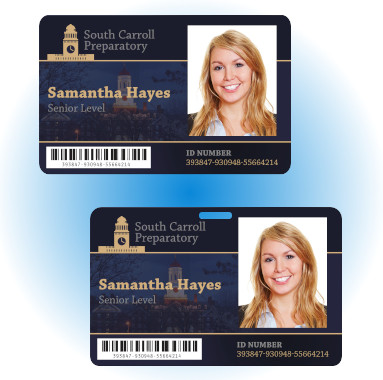 It's a seemingly small decision, but it's one that has a big impact on how you'll use, carry and display your ID card:
Slot or not?
You have plenty of decisions to make when it comes to designing and producing ID cards, like what to put on the cards and whether to print on one side or two.
Once that card is done, however, there's another decision you have to make: "How am I going to carry this thing?"
That's where the slot comes in.
Choosing between a slotted or slot-free ID card goes a long way towards determining how you're going to be using your ID credential.
However, it's not quite as simple as "I want a slot, so I'm going to include one."
There are certain situations and materials that make a slot a good idea, and others that make slotted ID cards a bit less desirable.
Ask yourself some questions before putting a slot in your cards
Before we continue, we should clarify what we mean by slotted ID cards. If you're not familiar with ID cards, you may think a slot refers to a randomly placed slit in a card, which wouldn't make much sense.
Instead, a slotted ID card is an ID card that has a small, oval-shaped notch taken out of the card material. A slot is used to make it easy to attach the card to an accessory like a lanyard, badge reel or strap clip.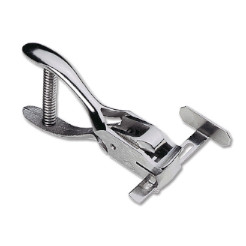 Slots are put into card using a slot punch, which is similar to the handheld hole punches you probably used in elementary school art class.
Slots can be put on both the horizontal and vertical edge of an ID card.
Why use a slotted ID card?
People aren't punching slots in their shiny, new ID cards for no reason — they're useful!
The most obvious advantage offered by a slotted ID card is that it's easier to carry and display.
Having a slot on your ID allows it to be easily paired with a strap clip, lanyard or badge reel. These accessories can just slide through the slot for an easy, secure solution.
Unslotted ID cards, on the other hand, are harder to display.
There are accessories like card clamps that can hold an ID card without needing a slot, but they aren't as secure as a clip through a slot.
In fact, if a card is designed to be worn or displayed and isn't slotted, it's usually paired with a slotted badge holder to make things easier.
Do I need to put a slot in my ID card?
There can be arguments made for both sides, but it really comes down your unique situation. Answering the questions below can help give you a clearer idea of what's best for your cards.
Note: A "yes" or "no" below doesn't necessarily mean "yes, slot your cards" or "no, don't." Instead, it's referring to the question asked in the header.
Are you planning to display/wear your ID cards?
If your answer is YES, slotting your ID cards is a good idea. It will make it easier to find the perfect accessory for wearing the card.
If your answer is NO, you don't need to worry about slotting your cards. If a card is going to be kept in a wallet or pocket, there's no sense in putting in a slot.
Does your card contain internal technology?
If your answer is YES, you should only slot your ID cards if they have guidelines like the ones to the right. These guidelines (or guide dots, to be more accurate) show the "safe space" where a card can be slotted without puncturing the internal wire or chip.
If your answer is NO, you're free to slot your ID cards without worry, according to your other needs.
What is your ID card made of?
If your ID card is made of PVC, you can slot the card, but do so carefully: putting the slot too close to the edge of the card can lead to easier cracking or splintering.
If your card is made of synthetic paper, it will be more resistant to tearing and cracking, leaving you free to put in a slot as necessary — however, you should still avoid putting the slot too close to the edge.
---
Looking for new ID cards? We offer dozens of different ID card styles, from proximity cards to standard PVC ID cards. Browse our online store to find the best option for your needs, then ask yourself — to slot, or not to slot?