Pennsylvania Regular Session 2019-2020 House Bill 39 would remove last names from credentials
A recent study has shown that healthcare workers are more likely to be victims of workplace violence than people in other careers. To help protect workers, some states are considering requiring the removal of last names from customer-facing credentials with the aim of making it harder to personally identify care givers and other employees.
A bill is making its way through the Pennsylvania House of Representatives (Pennsylvania Regular Session 2019-2020 House Bill 39) Currently, Pennsylvania law requires healthcare employee IDs to include a photo, first and last name.
Why eliminate last names from ID Badges?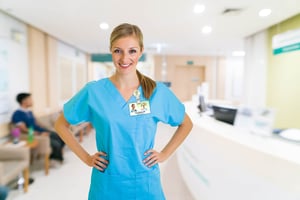 With the explosion of social media and the general ability to search the Internet, it's relatively easy to search for a person and locate personal information, including where they live. The PA bill is designed to help workers by not having last names on credentials.
If passed, this bill could drive similar changes in other states, with many facilities adopting the new policy and replacing their ID Badges to help protect employees.
How can you prepare for removing last names from ID cards?
Some hospitals and care facilities are getting ahead of the law. For example the University of Pennsylvania Medical Center (UPMC), which has roughly 87,000 employees, 40 hospitals, and 700 clinical locations, has already made the change to make the font size of last names smaller and harder to read. UPMC released in a statement about the PA bill, "We support this bill as it helps protect our employees and is an important piece of workplace safety legislation.
It's expected that other states will likely adopt similar legislation and that other hospitals and health systems will take action to help protect the privacy of employees."
So what are you to do about last names on ID cards?
If your organization is considering an update of your employee badge format, PDC IDenticard can help. We are a leading provider of access and ID credentials, serving thousands of companies, from hospitals, to government agencies, to colleges/universities and corporate. Your challenges have been faced countless times by our team of ID experts.
Learn more about PDC IDenticard's ID card solutions
Want to know more?
You can read the specifics of House Bill 39 with the proposed changes.