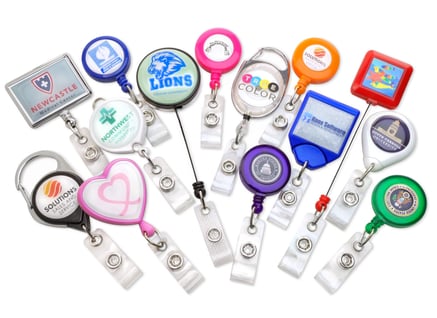 Retractable badge reels, also known as retractable card holders, are one of the most popular ways to carry and display an ID credential.
It's easy to see why: they can be customized for branding purposes, are easy to attach to the user and keep an ID card within reach for scanning or swiping at all times.
When it comes to choosing a badge reel, there are three main things to consider:
Color and shape
Attachment type
End fitting
Color and shape, of course, require no further explanation.
Attachment type refers to the piece on the back of the badge reel that secures the reel to the wearer. Common attachments include a swivel clip, a swivel clip with teeth and a slide clip.
The last one is arguably the most important, and potentially the most confusing: the end fitting.
On a badge reel, the end fitting refers to the piece at the end of the retractable cord that attaches to the ID card or badge holder.
What kind of end fitting you want on your retractable badge reels will depend largely on what kind of card or badge holder you'll be attaching.
Fortunately, we offer several different end fittings to suit any need.
What kind of badge reel end fittings do we offer?
Some end fittings, like a key ring, will be familiar to most. Others, like a snap closure, may be a little more foreign.
Use the chart below to determine which end fitting is best for you!
| | |
| --- | --- |
| | Card clamp end fitting This end fitting can be pulled open and then snapped shut around the surface of a card. It features two smooth sides, meaning an inserted card won't be damaged in any way. It's perfect for holding cards that aren't slotted. It also helps eliminate worries about punching slots in technology cards. |
| | Swivel hook end fitting This is one of our most popular end fittings! Usually made of nickel-plated steel, this end fitting is perfect for holding a slotted ID card or badge holder. It occasionally rotates with use, so cards facing the wrong way can be a problem. |
| | Snap closure end fitting This plastic end fitting features a round snap that closes into a hole on the other side. This end fitting is perfect for ski passes or other paper credentials, as the snap can punch through the paper material and hold it in place. |
| | Split key ring end fitting The key ring is an end fitting most people will be familiar with. It's perfect for holding a slotted ID badge, or for carrying a set of keys. Split rings are made of sturdy metal and will stand up to the rigors of daily use. |
| | Vinyl strap clip end fitting Along with the swivel hook listed above, this strap clip is one of our most popular end fittings. Simply pull apart the snap closure, slide a slotted ID card or badge holder through the vinyl strap and refasten the closure. It's that simple! |
These aren't the only end fittings we offer; instead, we've chosen to show the most common. If you're looking for an end fitting that you don't see here, we probably have it, as we manufacture many of these products in our own factories. Contact us for more information on additional end fittings.
---
We specialize in badge reels, and have one of the broadest product offerings in the industry. Use our interactive badge reel selector tool to choose the perfect standard badge reel for you, or design your own custom retractable badge reel online.