Schools around th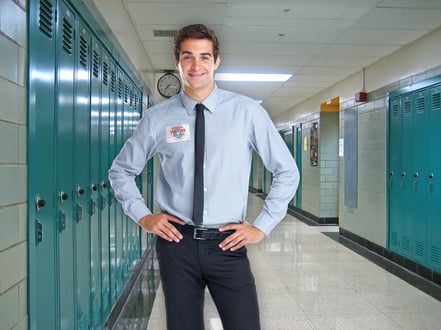 e world continue to face both internal and external threats to the safety of students and staff. Unfortunately, the daily news seems to be filled with school security incidents, from intruders to violence.
With these threats in mind, school security has never been more important. For that reason, using a simple sign-in sheet is no longer sufficient for protecting school students and staff.
Today's schools need comprehensive Visitor Management. In a school setting, Visitor Management refers to processing and monitoring visiting parents, volunteers, contractors, substitute teachers and other guests to ensure security at the school.
The end goal of a school Visitor Management system is clear: to keep students and staff safe at all times. So how will a Visitor Management system at your school achieve that goal?
We've compiled a list of four ways a Visitor Management system helps make your school a safer place.
#1: Visitor Management stations are a visual deterrent to unwanted guests
At many schools, Visitor Management is simply a notebook or sign-in sheet left near a front door. While a system like this will capture visitor data, it makes a number of assumptions that are simply unrealistic in today's world:
First, a sign-in book assumes a guest is actually going to stop and sign in. If the station is unstaffed, guests may view the process as optional or as an inconvenience and simply walk by.
Second, a guest can simply write any name in the book, and the discrepancy usually won't be caught until much later.
Having an actual Visitor Management installation at your school doesn't just give your school a professional look: it serves as the first line of defense against nefarious characters.
Guests looking to cause trouble are far more likely to pause at the thought of entering a school with a Visitor Management kiosk at the front door or with a staff member scanning a driver's license into a computer Visitor Management system than they are to be deterred by a simple notebook and pen.
By projecting a more secure look, a Visitor Management station can help discourage many unwanted guests from even attempting to enter a facility, stopping problems before they start.
#2: Visitor Management systems have detailed reporting capabilities, making it clear who is on-site
One of the most important features of a Visitor Management system is the ability to determine who, exactly, is at your site at a given time. Having these records helps to create an electronic "paper trail" of sorts, enabling administrators to view who is on-site, what time he or she arrived, where he or she is going and more.
If an emergency occurred at your school, you'd be able to make sure all of your students were accounted for using classroom attendance records. But what about visitors, volunteers or outside contractors?
A comprehensive Visitor Management system is able to serve as a type of "guest attendance report" and can provide a wealth of data on your guests, including:
What time the guest arrived or departed your facility
Who the guest was there to visit
The license plate number of a visitor's car
What area of the facility the guest visited
If the guest required assistance in the event of an evacuation
Picture the following situation: There's an evacuation at school. Students and teachers are gathered safely outside, and administrators are attempting to make sure the contractor working in the basement has left the building. The contractor's name is on the lobby sign-in sheet, but it doesn't say what time he arrived.
What if the contractor went out to lunch before your emergency and is already safely off-site? You could look for his car in the parking lot, but no one knows which car is his.
Is he still here? Should first responders be searching the building for him?
Without a Visitor Management system, there'd be no way to officially verify any of the contractor's information, increasing stress and potentially increasing risk to first responders.
However, with a Visitor Management system in place, the answers to all of those questions would have been captured during the sign-in process.
#3: Watch lists allow Visitor Management systems to revoke access from certain guests
One of the most important parts of keeping a school (or any facility) secure is taking steps to prevent incidents from happening. Proactive security measures, like the visual deterrent of a Visitor Management system discussed above, help ensure that a school is taking steps to prevent trouble, not just reacting when trouble occurs.
At schools, this means intercepting potential trouble at the front door, before it even has a chance to walk your halls.
With sign-in sheets, guests are presumed to be abiding by the honor system, signing in with real names even though no one is watching.
But if a guest knows he or she isn't welcome at the school, what's stopping the guest from writing a fake name? Unless your sign-in book has a staff member nearby who knows the face of every unwelcome visitor, this is an obvious security flaw.
However, these windows of trouble are slammed shut with a school Visitor Management system. Many of today's systems, including PassagePoint™, can be programmed to require a visitor to have his or her driver's license scanned to verify identity.
Users are also able to import lists of banned guests, providing an added layer of security. Such lists include:
Local and national sex offender registries
Manually entered "Banned Visitors" lists
Guests who have caused trouble in the past
By keeping these unwanted visitors out of your facility, you'll be stopping trouble before it starts.
#4: A Visitor Management system makes it easier to differentiate between staff and guests
At a busy school environment, it can be difficult to tell who is a teacher, who is a staff member and who is a guest. Having teachers and staff wear ID credentials is a great place to start, but too often credentials can be misplaced or, in the case of teachers of younger children, can fall off during activities.
At most schools, teachers and staff will recognize one another and will be able to identify someone new. But how will they know if that stranger is a visitor or an intruder?
Without a Visitor Management system, it's a guessing game:
"He looks suspicious."
"She looks like a nice person, so she must be fine."
This is no way to secure your school!
Instead, use a Visitor Management system that issues visitor badges to your school's guests. A system like TEMPbadge™ VMS is able to issue custom-printed visitor badges in just seconds. As an added bonus, the badges expire after a certain amount of time, ensuring that a visitor won't wander your halls after his or her time is up.
PassagePoint and WhosOnLocation™ are also able to issue badges to guests, adding a layer of security to your site. By issuing TEMPbadge expiring visitor badges to your school guests, you're making it easier for staff members to identify potential trouble: if an unknown person is seen at your school without a guest badge, chances are he or she isn't supposed to be there.
---
Instituting a Visitor Management system at your school will help make your facility more secure, creating a better learning environment for your students and enabling your teachers and staff to focus on providing the best education experience possible.
A comprehensive school Visitor Management system will also give peace of mind to your school's parents, allowing them to know that they're sending their children to safe, secure place.
Now that you've learned more about how a Visitor Management system will help secure your school, why not give one a try? IDenticard offers free trials of several Visitor Management systems. Click on the buttons below to learn more about each program and to sign up for a free, no-obligation trial.
PassagePoint is a comprehensive program that allows for the management of multiple sites from a central location, importing sex offender lists, guest pre-registration and more.
WhosOnLocation is a web-based Visitor Management program accessible from any web browser. Create custom sign-in dashboards, send text alerts when a guest arrives and more.
TEMPbadge VMS is simple, effective Visitor Management. Custom administrator dashboards make it easy to create the perfect guest badge. Visitor badges can be printed in just five seconds.