---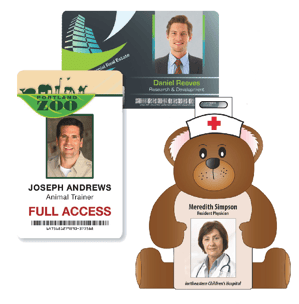 PVC has long been the standard material for ID cards across a number of industries. And while PVC makes a fine ID card, it's become more of a fall-back option: "We've ordered PVC cards for years...might as well stick with it."
But why stick with the same ol' solution when there's a better solution out there?
That solution is JetPak ID cards, our alternative to PVC cards that beats the old standard in just about every possible way.
To the untrained eye, a JetPak card might look and feel the exact same as a PVC ID card. After all, a card is a card, right? You just print some stuff on it, maybe laminate it, then go on your way.
Wrong! The JetPak card offers a number of features that leave the standard PVC card in the dust, making it the card of choice for dozens of federal government agencies, police departments, county sheriffs, corporate entities and more.
What is a JetPak card?
A JetPak card is an ID card made from a synthetic, paper-like material. Unlike PVC cards, which require a dedicated PVC printer for customization, this material can be customized using a standard inkjet printer. The material is microporous, allowing the ink from the inkjet printer to be absorbed into the surface to eliminate concerns about smudges.
Once a JetPak card has been customized with graphics, a name and other variable data, it is paired with the appropriate laminating pouch and run through a laminating machine. After lamination, the JetPak card is ready for use, and the result is a one-of-a-kind ID card that combines unrivaled durability with a wealth of security features.
---
Now that you know more about what a JetPak card is, it's important to understand what makes a JetPak different from standard PVC cards. There are several differences between the two card types, but the most important are captured below.
1. Size: JetPak cards are available in several sizes, perfect for oversized or custom credentials
If you asked the average person to tell you the size of a standard ID card, you'd probably get a lot of "like a credit card" answers. Those responses wouldn't be incorrect: credit card-sized ID cards, also known as CR-80 cards and measuring 2.125" x 3.37", are the most common size.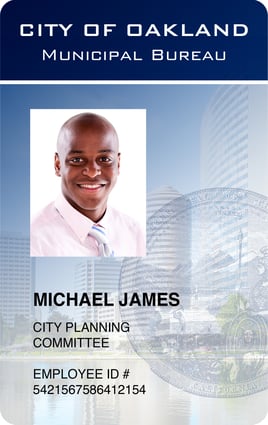 However, like leaving that cramped studio apartment for a bigger house in the suburbs, sometimes more space is a necessity, and when it comes to PVC cards, your options are pretty limited. CR-80 is the standard, and there are some cards that are slightly larger.
JetPak cards, however, can be made in pretty much any reasonable size. From 3" x 4" event passes to 2.5" x 3.5" oversized government credentials, there's a JetPak ID card for you.
The reason JetPak cards are available in several sizes that PVC can't match comes down to the synthetic material's construction.
JetPak's material comes in sheets, similar to a sheet of copy paper. As a result, JetPak cards can be factory-cut out of that material in variety of different sizes.
This flexibility makes JetPak cards perfect as oversized government credentials, police badges and more.
Also, the same flexibility allows JetPak badges to be created in a variety of different shapes. Think a tooth-shaped badge at a children's dentist's office, a heart-shaped ID badge for a doctor at a pediatrician's office, a chicken-shaped badge at a popular restaurant...the possibilities are nearly endless.
With PVC, you're limited in terms of what sizes and shapes are available. With JetPak cards, you can let your card design imagination run wild.
2. Durability: JetPak cards are more resistant to fading and cracking than PVC cards
When it comes to ID badges, longevity is key. No one wants to have to replace an ID badge every few months due to shoddy construction. Cards that are used for swiping through a reader are particularly susceptible to wearing down, rendering them useless over time.
Standard PVC cards with no lamination are particularly susceptible to damage, especially fading imagery or chipped and cracking cards. Laminated PVC cards are a bit better on both fronts.
However, JetPak cards best both of those options. Because the imagery is absorbed into the synthetic material and then coated by a layer of protective laminate, it will stand up to daily wear-and-tear much longer than PVC cards.
In fact, laboratory tests have shown:
JetPak cards are more resistant to fading than PVC cards when it comes to direct UV exposure.
JetPak cards stand up to extreme temperatures ranging from -40° F to 100° F, cold and heat that PVC can't handle.
JetPak cards stand up better to surface wear and tear, folding and require more force to break the card apart.
Simply put, JetPak cards are more more durable than PVC cards in every way.
3. Security: JetPak cards offer several security features PVC cards can't match
While some ID badges require nothing more than a photo and a name, many organizations require anti-counterfeiting security measures that keep their cards from being duplicated without authorization. This is of particular importance when it comes to government ID cards, which is why so many government organizations choose JetPak.
PVC cards have holographic foils that are hard to duplicate. However, the security features of JetPak cards far outpace those offered by a simple holographic foil.
JetPak cards can include:
Text printed so small that it won't be picked up by the naked eye, a feature PVC printers are unable to duplicate
Ink printed on top of holographic foils to prevent the foils from being duplicated
Holographic foils that can be cut into custom shapes and sizes, adding security and professionalism
UV printing that counterfeiters won't even know is there without the aid of a black light
...and that's not even half of them. JetPak cards are capable of featuring several additional security features that we won't detail in this post, as we'd like to keep them a little closer to the chest.
However, it's clear why so many government agencies and law enforcement departments have made JetPak their choice: there's no card more secure.
---
Does JetPak sound like the card for you? Then it's time to ditch PVC and make the switch!
Browse our online store to see a variety of JetPak options. If you'd like to learn more about creating a secure custom ID card featuring JetPak or have questions on custom JetPaks in general, contact us using the button below.