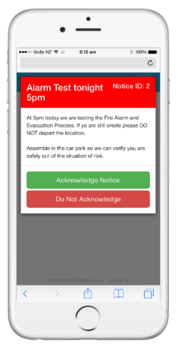 By nature, worksites are busy places.
From small offices to bustling construction sites, warehouses to office towers, there's always a flurry of activity.
As an employee, you get to know your worksite pretty intimately: you know that there's a fire drill on the first Friday of every month, or that you need to avoid the big conference room because the ceiling is leaking.
When you spend the majority of your day at the same place, you get pretty familiar with all of the ins and outs, and those in charge are able to effectively communicate any status changes.
For example, if the kitchen is going to be closed on Tuesday, a facility email is sufficient to inform all employees.
However, visitors to your facility have no way of knowing what's going on at your site prior to arrival, and will likely be unfamiliar with rules, regulations, tips and tricks.
Keeping your visitors informed is more than just common courtesy (obviously they should know that Monday is food truck day!); it also helps keep them safe, alerting them to potential hazards, facility policies and more.
So, how can you keep your guests in the know?
Sure, you could have your front desk personnel read each guest a few announcements, or could just put a piece of paper at the front door.
But that would take time out of your employee's day, and signs often get overlooked.
There's a better way.
Acknowledgement notices: Digital confirmation of "yes, I understand"