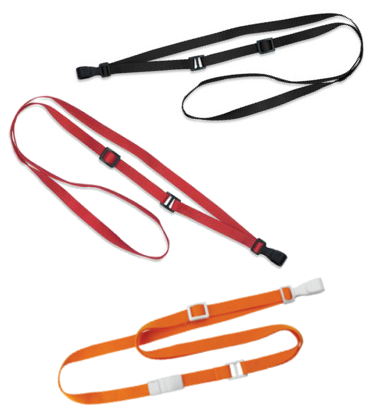 Product Spotlight is a feature that will run multiple times a week, designed to showcase individual products in our broad offering. We'll highlight key features, discuss how the product is used and more. Interested in seeing a particular product featured here? Let us know!
Product: Adjustable Lanyards
Product Category: Lanyards
SKU: 2137-2033, 2137-2034, 2137-2035, 2137-2036, 2137-2037, 2137-2038, 2137-2039, 2137-2040, 2137-2041
In life, it's important to be flexible.
No one wants to be known as that stubborn guy, or as the woman who's set in her ways. Being flexible opens us up to new opportunities, new experiences, new people and new places.
Did you know lanyards can be stubborn too?
OK, so technically lanyards don't have actual personality traits (though we find our neon lanyards to be very hyper and energetic). But lanyards are stubborn in that they're usually a "one size fits all" solution.
Most lanyards are a standard cut length of 36". This means that the length of fabric used to create the lanyard measures 3 feet long before it's looped together with a finishing option.
In some ways, a standard length is a good thing: you always know what you're getting.
However, standard lengths can also present challenges. After all, a lanyard with a cut length of 36" is going to look a lot differently on a 6' 6" person than it will on a 5' 1" person.
Our line of adjustable lanyards solve this problem by...well, by being adjustable.
These lanyards offer the same card-carrying functionality as standard lanyards with the added bonus of adjustable sizing, making them a true "one size fits all" solution.
Don't settle for a stubborn lanyard