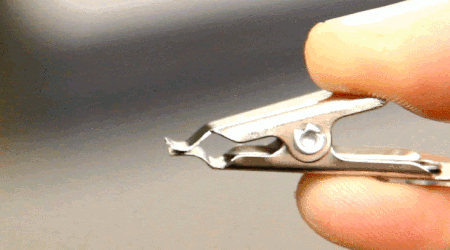 Product Spotlight is a feature that will run multiple times a week, designed to showcase individual products in our broad offering. We'll highlight key features, discuss how the product is used and more. Interested in seeing a particular product featured here? Let us know!
Product: Strap Clip with the Brady Clothing-Friendly™ Clip
Product Category: Strap Clips
SKU: 2105-2093
You never think it's going to happen to you.
You're sitting at a sales meeting, a convention or some other kind of all-day work event, wearing a name badge and sitting next to your colleague from the Topeka office.
You've been there for hours, dutifully wearing your name badge, when you break for the day. You remove your name tag, and suddenly there's a large crimp (or worse) on your nicest convention clothes. Like a wrinkle's ugly cousin, this evil crimp is now just sitting there in the middle of your shirt.
You've become a victim of Clip Bite.
Don't worry! You're not alone. People around the country fall victim to this phenomenon every year, as button-down shirts, dresses and sweaters are cast into the trash after suffering fatal cases of Clip Bite.
Many frequent trade show or convention attendees feel resigned to their fates, settling for a less-than-perfect shirt that they know will be sacrificed to the evil Clip Bite.
But there's a better way: the Brady Clothing-Friendly Clip!
How does the Brady Clothing-Friendly Clip save you from Clip Bite?