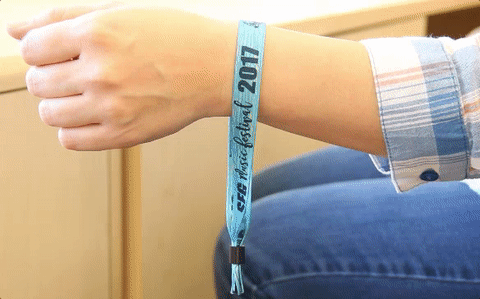 Product Spotlight is a feature designed to showcase individual products in our broad offering. We'll highlight key features, discuss how the product is used and more. Interested in seeing a particular product featured here? Let us know!
Product: Secure Closure Dye-Sublimated Wristbands
Product Category: Wristwear
SKU: Custom Product
Wristbands are a popular way to denote certain privileges at sporting events, concerts, nightclubs and conventions.
They can be used for a variety of reasons, from indicating that the wearer is of legal drinking age to granting access to certain "VIP" areas.
Many organizations are still issuing the same paper-like wristbands that have been used for years.
We've all seen them: they're frequently used to indicate that a bag has been searched by arena security or that a person at an 18+ concert is over the age of 21.
These wristbands work on a basic level, as they do a good job of identifying the wearer at a glance. However, these wristbands have what you could consider a fatal flaw: they're transferable.
While it's true that they're designed to be non-transferable, it's easy to peel apart the wristband without damaging it, if you're careful. This creates a serious security lapse, potentially allowing access to alcohol for underage youth or allowing an outsider into privileged areas.
On a visual level, our secure closure wristbands work a lot like the ones described above: they're printed with some kind of design to indicate the status of the wearer at a glance, making things easier on bartenders and security guards.
However, secure closure wristbands feature an added security benefit: once placed on the wearer's wrist, the only way it's coming off is with some kind of blade.
Same visual verification, but more security