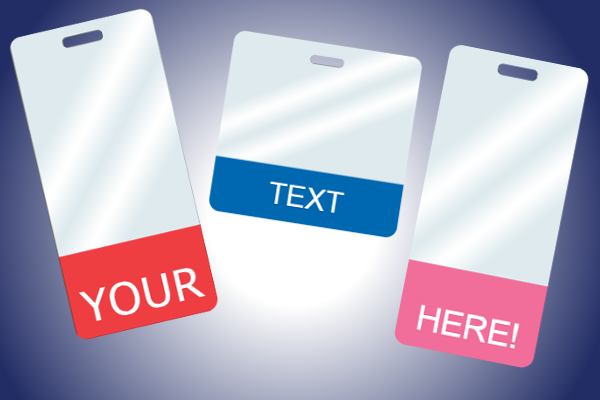 Product Spotlight is a feature that will run multiple times a week, designed to showcase individual products in our broad offering. We'll highlight key features, discuss how the product is used and more. Interested in seeing a particular product featured here? Let us know!
Product: Clear Custom Badge Buddies
Product Category: Badge Buddies
SKU: BBVCLR, BBHCLR (available in custom Badge Buddies tool only)
Badge Buddies are a great way to add role recognition to a healthcare facility.
They provide clear, visual identification for patients and guests, letting them know the job function of the person to whom they are speaking.
However, some facilities have rules and regulations in place stating that an employee badge must be facing front at all times — no exceptions!
In a busy healthcare environment, it's inevitable that a badge will end up getting spun around a time or two. To satisfy the front-facing ID requirement, many organizations will simply print dual-sided ID cards. That way, if a badge gets turned around, the pertinent ID information is still showing.
Unfortunately, our standard Badge Buddies don't play well with that solution: they're opaque, meaning they'd block the ID badge.
Fortunately, we created a solution: clear Badge Buddies!
See the difference a clear Badge Buddy can make