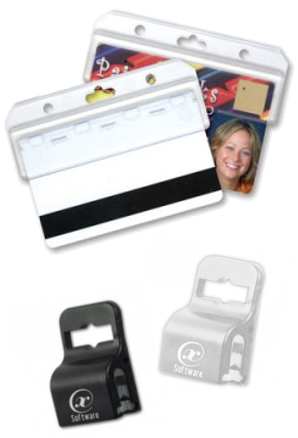 Putting a slot in an ID card is a pretty common practice, whether it's a student ID card or an employee badge.
The process is pretty simple: a slot punch is used to put a small hole in a card. This small hole allows a strap to slide through, making it easy to wear the card with a variety of card accessories, like lanyards, badge reels or strap clips.
Slotting ID cards isn't exactly a hot-button issue, but there are some people who are anti-slot. These people are averse to slots for a number of reasons:
They like the professional design of their cards and don't want to "ruin" them by punching a hole
The cards will be used for swiping or scanning and slots breaking is a real concern
Some organizations get around the slot by simply putting their un-slotted cards in some kind of badge holder, as holders normally have a slot or chain holes that makes them easy to carry.
However, this approach doesn't work for cards with a magnetic stripe: the wearer would be required to remove the card from the holder every time he or she needed it, which is pretty inconvenient.
So...what do you do?
For some, slot-free is the way to be...