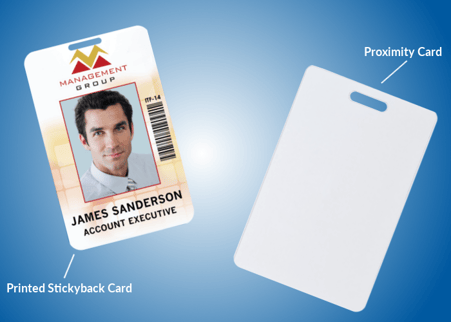 From a curiosity standpoint, stickyback cards have one of the most interesting names of any product in our offering.
"Stickyback."
Just reading the word raises all kinds of questions.
Is it some kind of candy bar?
Is it someone describing a piece of tape?
Did someone fall in a giant bucket of honey? Is that how he or she ended up getting so sticky?
Yes, there are plenty of questions about stickybacks, but let's address the most important one first (no, not the honey): what, exactly, is a stickyback ID card?
Stickyback cards are adhesive-backed cards designed to be attached to some kind of existing ID card or credential.
They're a unique and versatile ID solution, enabling organizations to save money while still identifying all of their employees.
Learn more about stickyback cards and how our customers use them
Think of a stickyback card as a very thin PVC ID card with an adhesive back.
Most standard ID credentials are 30-mils thick. Stickyback cards, on the other hand, normally are in the 8-mils to 14-mils thickness range, meaning they are less than half the thickness of standard ID cards or clamshell proximity cards.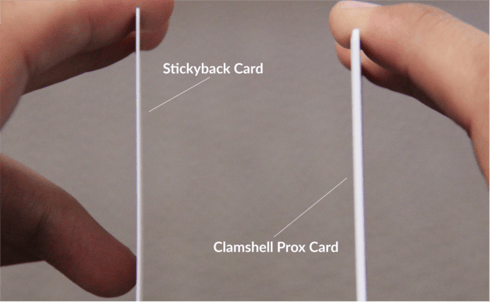 The reason for this is simple: stickyback cards are designed to be applied to existing cards, so they have to be thinner to avoid making the final solution too thick to carry around or to fit in an ID badge holder.
Stickyback cards have a standard white PVC front and an adhesive back that is covered by a paper or Mylar liner.
Like any other sticker, stickyback cards are a basic "peel and stick" solution: simply remove the liner and press the stickyback onto whatever credential needs to be customized.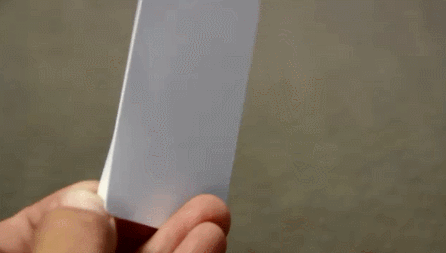 How are stickyback cards customized?
As stated above, stickyback cards are basically really thin PVC cards. It makes sense, then, that stickyback cards are customized using a standard PVC ID card printer.
In spite of their thin build, most stickyback cards have normal CR80/credit card-sized (2.13" x 3.38") dimensions. This means they can be customized using any PVC ID card printer that can print on CR80 cards — no special equipment required.
Why are stickyback cards used?
Stickyback cards are usually used to accomplish one of two things: to provide identification on "unprintable" cards or to save organizations money by allowing for the reuse of technology cards.
Stickybacks allow for customized "unprintable" technology cards
Some cards, like thick, clamshell proximity cards or cards with embedded smart chips, are hard to customize. To call these cards "unprintable" is a bit dramatic, as there are reverse-transfer printers that are able to handle the bumps and indents without issue.
However, standard, direct-to-card PVC printers can have trouble with these credentials, as the bumps and ridges can cause the ribbon to not be applied to the card correctly, leading to print quality issues.
Stickyback cards help organizations circumvent these issues. Instead of trying to print directly on the cards themselves, users can print their ID badges on a standard, flat stickyback, and then apply that stickyback to the technology card for a personalized solution.
This method avoids print quality issues and leads to a high-quality custom technology card without the investment in a whole new retransfer printer.
Stickybacks help save money by allowing for the reuse of cards
It's a fact of life for any business: employees come and go.
If an organization is using standard PVC ID cards for ID-only employee badges, an employee's departure is no big deal. With PVC cards often priced lower than 50 cents apiece, issuing a new badge isn't going to cause your finance manager to break out in hives.
However, more and more organizations are choosing to upgrade their employee ID programs by issuing smart cards or proximity cards, credentials that "do stuff" beyond simply identifying employees.
With those upgrades come upgraded costs: these cards can often cost a couple of dollars each (or more), making organizations more hesitant to simply throw them out when an employee leaves.
That's where stickyback cards come in.
By using blank proximity or smart cards and customizing them with the application of a stickyback card, organizations save themselves money: instead of replacing the technology card when an employee leaves, the organization can simply peel off the custom stickyback portion and reissue the card to a new employee with a new stickyback attached.
Incorporating stickyback cards into a smart or proximity credential program helps to reduce replacement costs and offers an organization flexibility when it comes to badging employees.
---
Quick summary
Stickyback cards are like standard PVC cards, except they're about half as thick.
The cards have an adhesive back and are meant to be attached to existing credentials.
Stickyback cards are customized using a standard PVC printer.
Organizations use them to customize technology cards or to save money by avoiding having to issue new technology cards every time an employee leaves.