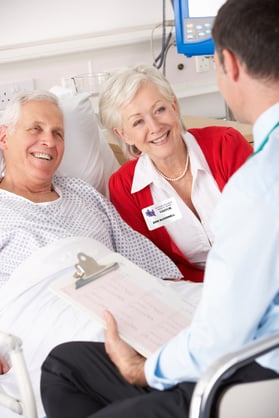 Like most heavily regulated bodies, the healthcare industry is full of important acronyms.
Many of these acronyms are terms most people will be familiar with, like HIPAA, RN, CNA and HMO. Those are healthcare acronyms the majority of people have encountered at one point or another.
However, one of the more important healthcare acronyms is one that the average patient or hospital visitor has probably never heard before:
HL7.
If you're thinking "what the heck is that?", you're not alone.
Unless you work for a hospital in some sort of administrative, IT or security capacity, chances are you've never encountered the term.
However, HL7 is something that is key to nearly every healthcare facility, and plays a particularly important role in healthcare Visitor Management.
What is HL7?
As mentioned above, HL7 is an acronym. It stands for Health Level Seven®, which obviously raises another equally valid question: what is Health Level Seven?
Per the link above, Health Level Seven describes itself as a "standards developing organization" devoted to maintaining a system of "exchange, integration, sharing and retrieval" of electronic information on patients at healthcare facilities of all kinds.
HL7 is an organization that tries to ensure electronic patient data remains secure at all times. HL7 works to standardize that data and how it is used in order to create a better overall healthcare experience (for both patients and caregivers).
The idea behind the standards is that a site following HL7 protocols in Memphis should have the same basic data design as a site in Portland, for example.
HL7 doesn't release any programs or software itself. Instead, it develops and maintains a set of standards that allow for healthcare interoperation, whether that interoperation is between two hospitals over the transfer of a patient or between a hospital system and an outside piece of software.
HL7 helps ensure that patient data is accurate, but also that the transmission of any data remains secure.
How does HL7 apply to Visitor Management?
To gain access to patient data at a hospital that observes HL7 standards, any system must meet those same HL7 requirements. If you want to access data that's observing HL7, you have to be able to meet their standards.
Want the data? You have to play by the rules.
This is of particular importance in Visitor Management because of how vital it is to have access to hospital databases when it comes to directing guests to the correct room.
For example, if you were to use a system that wasn't working with HL7 standards, you may end up taking multiple steps to direct a visitor:
Check in the guest on your Visitor Management system.

Go to your hospital's database (on a separate system) and look up the patient the guest is there to visit.

Write down or verbally direct the guest to that location, with the hope he or she can find it without issue.
That isn't a good experience for a guest: who wants to worry about finding the right room when visiting a hospitalized loved one? Or worse: to get to the "right" room, only to find out that the patient has been transferred elsewhere.
It's also a bad experience from an administrative perspective: you now have visitors wandering around your facility, hoping to stumble onto the correct room. The potential liability is enough to keep risk managers awake at night.
Fortunately, there's a better way: PassagePoint™ Visitor Management software, with the HL7 add-on module.
How does PassagePoint use HL7?
PassagePoint's compatibility with HL7 allows it to have direct access to a hospital's "Admit/Discharge/Transfer" database, where it can access the necessary patient information.
This means that when a guest is signed into the system and gives the name of the patient being visited, he or she can be directed to the exact location of the patient he or she is there to visit.
No more "take the elevator up to the third floor, he should be there" verbal instructions.
Instead, the guest can be directed to the exact building, floor and room where the patient is staying, based on information taken directly from the hospital's system.
PassagePoint's HL7 module eliminates the guesswork from healthcare Visitor Management, creating a safer environment for employees and a better experience for guests.
What else can PassagePoint do for hospitals?
Aside from the HL7 module, PassagePoint provides a number of features beneficial for Visitor Management at healthcare facilities.
Specific information per patient, like banned visitors, can be entered into the system to prevent trouble from ever getting by the front desk.

The number of visitors currently in a patient's room can be tracked and displayed in the system, preventing the overcrowding that can come from guests exceeding a patient's visitor limit.
PassagePoint can run searches against imported watch lists, including sex offender registries and criminal records, preventing unwanted guests from gaining access to your facility.
---
It's hard to fit everything PassagePoint is capable of in a single blog post. Want to learn more? Take a guided tour of PassagePoint by clicking the button below, and you'll be one step closer to the perfect Visitor Management system for your healthcare facility.